Ecommerce online merchandising
Display the products that matter when they matter most
The product results your shoppers expect, in the order and appearance you want them.
Go beyond relevancy, take control of how products are presented.
Product results that feel personalized
MAKE "RELEVANT" HYPER-RELEVANT
Organize your products how you want them with drag-and-drop controls. Arrange them by aesthetics, place matching items near each other, or promote your best-sellers.
Move (sell) the products that matter to you

MEET INTERNAL BUSINESS GOALS

Organize and rank your product results based on rules that align with your business goals. Boost best selling products, place sold-out products at the bottom, and so much more.

A perfect presentation for every situation
ENHANCE THE SHOPPERS EXPERIENCE
Make your pages more enticing with the human touch. Group matching items, promote trending products, or move your lowest performers to the bottom.
Override results when necessary
PIN PRODUCTS
Want certain products to occupy the top spots on specific search results or category pages? Now you can easily make that happen.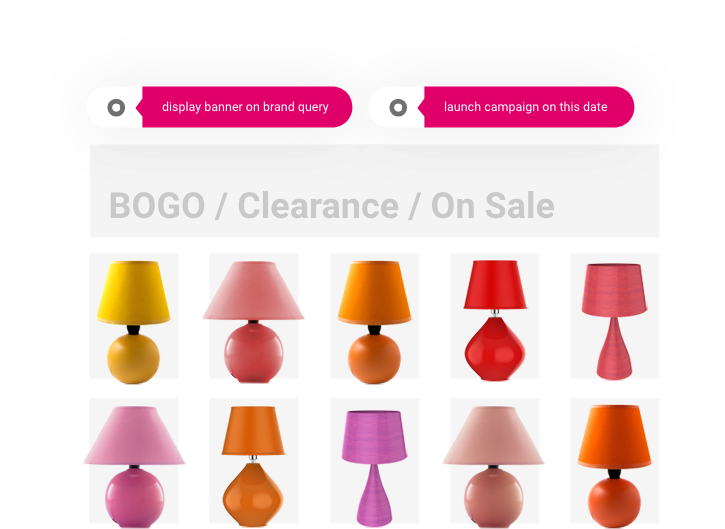 Make your sales and specials stand out
CAMPAIGNS AND PROMOTIONS
Now your marketers can work hand-in-hand with your merchandisers on campaigns. You can now create triggers (such as date and time) to launch a campaign with custom banners and imagery to match your social and email efforts.
Easy everywhere, control where you need it
Optimizing the product results shouldn't be a pain.
Move fast. Go global!
Want your best sellers and new arrivals at the top? Create layered rules to promote products based on any parameter you wish – without ruining the automated relevancy.
Visualize and fine-tune on a granular level
Override and pin products when and where you need. Manually curate any results page and define precisely what products go where with powerful drag-and-drop controls.
WE'RE HERE TO HELP
Need help finding the right solution? Have pricing questions?
No more limitations, optimize EVERY results page
It doesn't have to be complicated or a burden to tailor your product results. Easily optimize your campaigns and results everywhere!
Search pages
With powerful boosting rules and intuitive drag-and-drop controls, you can order and position products precisely where and how you want them for any search query.
Category pages
Take full control of your category pages collectively and individually. Create custom triggers and rules to order the product results any way you want – and do so faster than ever!
Unique landing pages
Create completely merchandised landing pages in minutes without any code or technical knowledge. Perfect for marketing, brand pages and more.
Leverage EVERY piece of data you have
Pull in data from your other 3rd party tools and enable features that aren't available without Searchspring
Your product results can go beyond relevancy, they can be personalized to deliver results exactly the way you want and remain highly relevant.
Merchandising tools that make both you and your shoppers happy.
Show & Hide Facets
Hide facets on a specific category page that you don't want to show up, so shoppers can focus on the ones that matter there.
Set up campaigns that take affect in multiple shopper scenarios and/or in complex shopper scenarios. One campaign can show a banner in multiple categories & searches.
Products that have been specifically hidden from appearing on a product listing page, such as temporarily discontinued products.
View our most popular help articles for a deeper dive
Learn more about Landing Pages
Completely custom set of products created from scratch, which is triggered by a specific tag link that you can specifically link to…
The latest guides, advice, and insights from our experts
Big Book of Holiday Inspiration for 12 ecommerce ideas you should be copying
Category:
Ebook
Length:
12 Minute Read
What You Should Know Before Choosing A 3rd Party Provider
Category:
Buyer's Guide
Length:
11 Minute Read
Do the things your platform won't let you do.