Ecommerce Site Search
Guide shoppers straight to the products they're looking for with an enhanced ecommerce site search solution.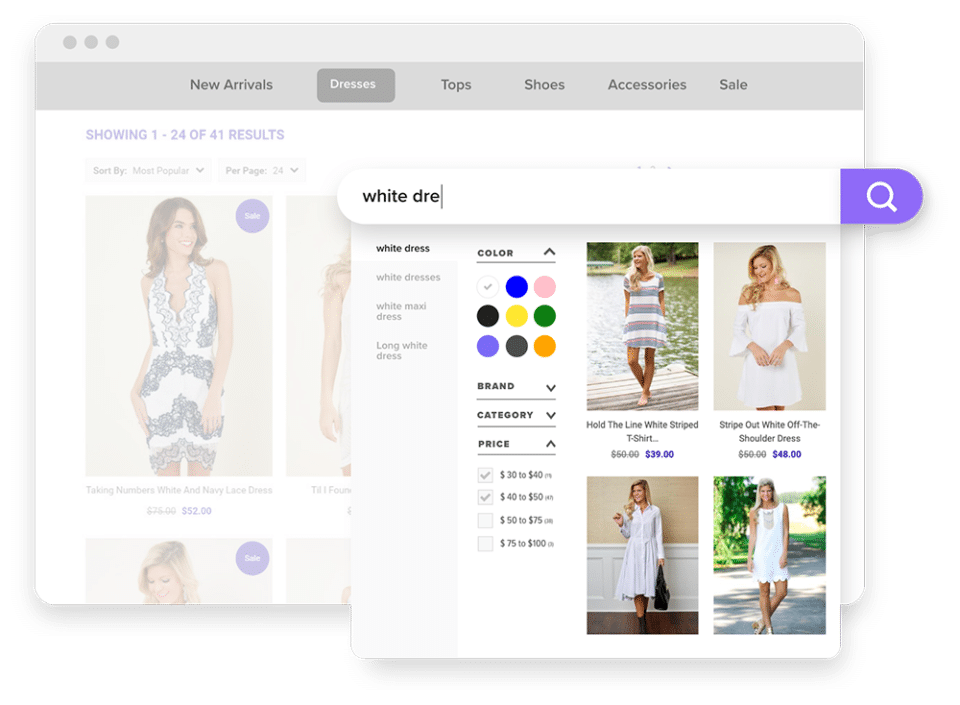 Deliver hyper-relevant ecommerce search results
Semantic search

Measurement detection

Intelligent results

Semantic search

Semantic ecommerce search looks at the subtleties in a search query to classify or group products. In just a few milliseconds, it is able to break apart the words in a query to identify which words are product categories, and which are attributes.

This ultimately ensures that shoppers will be taken to the correct set of products, rather than a collection of products that are only loosely related to their query.

Measurement detection

Measurements and special characters are detected and normalized automatically. Whether your shopper types 2 inch, 2 in., or 2", they'll see the same set of products.

Intelligent results

The top ten best performing products can be automatically boosted to the top of results for your 250 most popular search terms.

This solution is intelligent, gathering engagement data specific to each search query. Each of your top 250 queries will have their own unique set of products boosted based on engagement data from other shoppers who searched for the same term.
Merchandise your ecommerce site search results
Drag-and-drop controls

Boost rules

Campaign scheduling

Drag-and-drop controls

Arranging your products has never been easier. Instead of asking your web developer to adjust product order, you can drag-and-drop any product precisely where you want it.

Display products in a way that is aesthetically pleasing, or in an order that follows a logical progression. Alternatively, you can arrange products by style, or separate products from their accessories where larger ticket items should take priority.

Boost rules

Automate your merchandising by using rules to boost and demote products based on your goals. Boost products based on their number of reviews, conversion rate, or margin.

Alternatively, you can demote products that are clogging up results. Demote products that don't have images, have a low conversion rate, or that are out of stock.

Campaign scheduling

Align your search results with marketing activities by scheduling campaigns. Combined with drag-and-drop controls, boost rules, and banners, you can schedule campaigns that promote the right products at the right time.

When the campaign is finished, your results page will go back to the original layout automatically.
Predict their needs with autocomplete
Typeahead suggestions

Filters in autocomplete

Popular searches

Typeahead suggestions

Shoppers see live typeahead suggestions that are relevant to your store.

Suggestions are fast and based on popular queries matching the characters typed. Shoppers can preview suggestions in autocomplete, or click through to see the full set of results.

Filters in autocomplete

Improve the way shoppers navigate your store with filters in autocomplete.

Enable the filtering of ecommerce site search results inside of the autocomplete experience to help your shoppers sift through products and find ones that fit their needs in record time.

Popular searches

Inspire shoppers by providing ideas for search queries that are currently popular or trending.

Showcase results that are timely and relevant to your shoppers based the most popular queries on your store.
See how Searchspring customers are using ecommerce site search
Case Study
While online merchandising was always a key focus for Wildfang, it's now a far less manual process for their team with Searchspring's rule-based solutions. 
Keep Reading