Ecommerce Site Search
Unmatched intelligence out of the box, control when you need it.
When your shopper makes any of these searches
Your search bar will know exactly what to do
A search for "shirt dress" and not "dress shirt"
UNIQUE PRODUCT SEARCH
Your search bar will understand what part of a shopper's query is an attribute, and what part is the product.
A search for 5′, 5 foot, 5 feet, 5ft. or 5ft'

SEARCH WITH A SPECIAL CHARACTER

Your search bar will understand that foot and ft. are the same thing and deliver the right products, even if those variations aren't in your product data.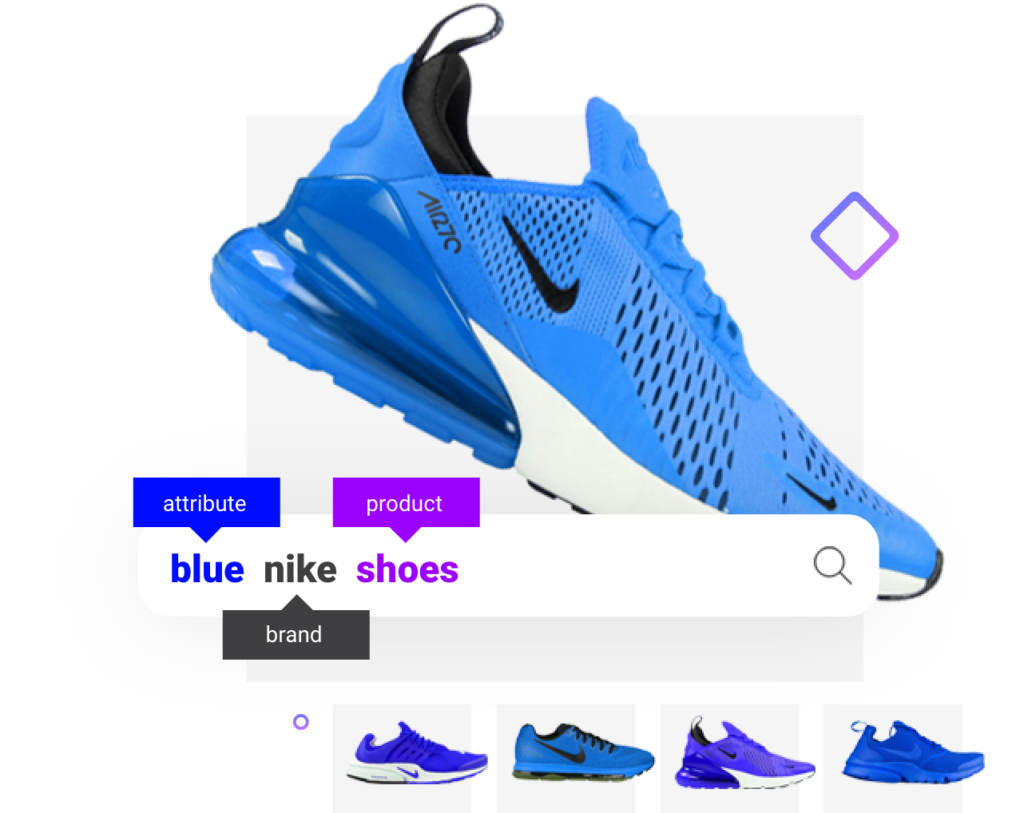 A search with adjectives and more
LONG TAIL SEARCH
Your search bar will know the difference between an attribute, a modifier, category, product type, etc… just like a human would.
A search that has type errors
TYPO IN THEIR SEARCH
Your search bar will correct their error and keep going without a hiccup.
Site search that behaves like an experienced salesperson
Your search bar will access ALL of your product data. It will understand that data and know what data to ignore. It will also REMEMBER shopper behavior and respond accordingly.
Gets smarter the more it's used
Your search will continue to learn from your shoppers, recognizing trends in real time and automatically elevating products that convert best for each query.
Uses the product data that matters
Take full advantage of all product and 3rd party data to give your shoppers better results and navigational controls.
Here's how Searchspring transforms the search experience
Delivering a better shopping experience has never been this easy.
Go beyond relevancy. Make it personal.
Your search bar can go beyond relevancy. It can be personalized to deliver results exactly the way you want and remain highly relevant.
See how and why products rank the way they do.
The Search Preview tool lets you dig into any of your result pages so you can see exactly why products are ranking the way they do.
Personalize the product results
Fine tune your results and display the products you want your shoppers to see first, without sacrificing automated intelligence and relevancy.
Your search bar can go beyond relevancy, it can be personalized to deliver results exactly the way you want and remain highly relevant.
A search bar that enhances your store's UI and functionality
Analysis of product information to determine what kind of product it is. Example, determining the difference between "shirt dress" and "dress shirt"
Natural Language Processing
Our capability to determine customer search intent and context, with features like measurement detection, character recognition, product typing, and more…
Search preview gives you under-the-hood visibility into how the Searchspring algorithm works. See how products are ranked and why.
Search Suggestions
We look at the most popular search queries on your site and suggest any of those that partially match the user's current search.
Product Suggestions
We suggest any products with names or SKUs that partially match the user's current search.
Predictive Visual Autocomplete
A module that pops up when a user starts typing in the search box, and helps the user to find what they're looking for in real time with product and search suggestions along with faceting options.
Words that are tied to other words to make search results come back for products that might not have one of the words in its searchable data, such as "bathing suit" = "swim suit"
Words or phrases that, when searched, will cause the browser to redirect to a different page instead of showing results. Such as "returns" redirecting to the return policy page instead of displaying product results.
Keep and leverage the custom logic you already have, like pricing rules, inventory displays, badges, banners, etc… If you have it, you keep it.
Did You Mean Suggestions
Alternative query suggestions that show up at the top of a search results page. Most often found on zero-result pages.
Customizable No Results Page
Show something other than "No results found" such as a landing page for all your best sellers, a redirect to another page, or some other custom content.
Define which pieces of your products can be searched to help direct customers to what's important to them.
Query Replacements / Ignore Terms
A word replacement on the search that happens before the actual search, changing what the original search is. Good to use for common typos.
We intelligently push 10 products to the top of the results for your 5,000 most popular search terms, based on shopper engagement on each search.
The automatic searching of alternative variations on a word, usually for pluralizations. Example: searching "dress" also looks for "dresses" automatically.
Typo Tolerance
Searching for partial matches that are only 1-2 letters off from the search, also referred to as fuzzy search.
Order the showing of products based on how their data matches compared to your predefined rules, such as, showing new products first and sort those by highest margin.
HTML and CSS styling that adapts search functionality to best functionality and ease of use on mobile devices.
We handle the integration process for you. From data audit to going live, it's all on us. We'll match your look-and-feel exactly, retain your custom logic, and any other special features you've built out. If you have it, we make sure you keep it.
WE'RE HERE TO HELP
Need help finding the right solution? Have pricing questions?
View our most popular help articles for a deeper dive
The latest guides, advice, and insights from our experts
Big Book of Holiday Inspiration for 12 ecommerce ideas you should be copying
Category:
Ebook
Length:
12 Minute Read
What You Should Know Before Choosing A 3rd Party Provider
Category:
Buyer's Guide
Length:
11 Minute Read
Do the things your platform won't let you do.